THOUSANDS OF YEARS AGO, THE PEOPLE WHO INHABITED THE HIMALAYANS DISCOVERED THE THERAPEUTIC VALUE OF SALT. PATIENTS WERE TREATED FOR THEIR RESPIRATORY AILMENTS IN THE NUMEROUS SALT CAVERNS THAT WERE IN THIS AREA. THE SALT TRADE WAS VERY PROSPEROUS DURING THIS TIME, AND WAS TRADED BETWEEN LOCAL REGIONS.
THE BENEFITS OF SALT THERAPY HAVE BEEN RECOGNIZED AND PRESCRIBED THROUGHOUT HISTORY BY PHYSICIANS & THERAPISTS. ITS HEALING PROPERTIES HELP TREAT A VARIETY OF AILMENTS SUCH AS COLDS, ALLERGIES & ASTHMA. WHEN USED IN THE BATH, IT HELPS SOOTH DERMATITIS & PSORIASIS. SALT PILLOWS FILTER THE AIR AROUND OUR MOUTH AND NOSE WHILE SLEEPING. SALT CANDLES & SALT LAMPS NEUTRALIZE IRRITATING PARTICLES IN THE AIR.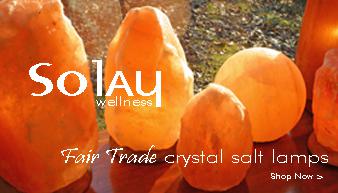 SOLAY WELLNESS HAS A LARGE ASSORTMENT OF SALT LAMPS, INHALERS, SALT CANDLES & SALT PILLOWS ALONG WITH THEIR PURE HIMALAYAN SALT. THESE PRODUCTS CAN BE FOUND AT Solay Wellness. BE SURE TO KEEP A SUPPLY ON HAND FOR THE UPCOMING COLD & FLU SEASON.