THE QUALITY OF OUR INDOOR AIR AFFECTS OUR HEALTH IN MANY WAYS. MOST OF US ARE UNAWARE OF THE ITEMS IN OUR HOMES THAT CONTAMINATE THE AIR WE BREATH. SOME COMMON SYMPTOMS OF POOR AIR QUALITY ARE HEADACHES, DIZZINESS, FATIGUE & NOSE, THROAT & EYE IRRITATION. BUT IT IS ALSO POSSIBLE TO DEVELOP LONG TERM CHRONIC CONDITIONS SUCH AS ASTHMA, RESPIRATORY DISEASE, HEART DISEASE & CANCER. THESE DISEASES CAN GO UNDETECTED FOR YEARS.
SOME EXAMPLES OF INDOOR AIR CONTAMINANTS ARE MOLD SPORES, VOLATILE ORGANIC COMPOUNDS, CARBON MONOXIDE, RADON, DUST MITES, & FORMALDEHYDE & ASBESTOS.
DUST MITES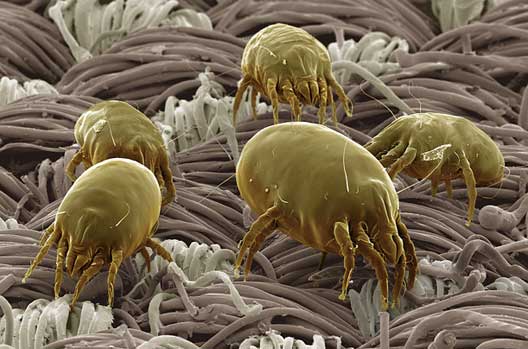 ASBESTOS
CARPETS, FURNITURE, BATHROOMS, DAMP BASEMENTS, WOOD SMOKE FROM FIREPLACES, PERFUME, AIR FRESHENERS & HAIRSPRAY ARE JUST A FEW HOUSEHOLD ITEMS THAT EMIT PARTICLES THAT CAUSE INDOOR AIR CONTAMINANTS. COOKING, CLEANING & REMODELING ALSO CAUSE THE SPREAD OF THESE CONTAMINANTS THROUGHOUT OUR HOMES. FOLLOWING ARE SOME IDEAS TO MINIMIZE AIR CONTAMINANTS:
Try and keep things out of your home that cause pollution like cigarette smoke, toxic cleaning products, paints, commercial room fresheners, even dry cleaning.

Synthetic carpets, scotch-guarded fabrics, foam bedding, mattresses and vinyl shower curtains outgas certain chemicals. When you can, make the switch to 100% cotton or wool and organic products.

Make sure you have proper ventilation and a good exhaust system for your stove and appliances.

Control moisture in your home using a dehumidifier when necessary.

Many people remove their shoes before entering the home to avoid tracking in dust, dirt and outdoor chemicals.

Using a HEPA air filter traps pollutants as well.
Houseplants are one of the most effective (and prettiest) air cleaners.

All plants give off oxygen and filter carbon dioxide, but some plants actually absorb toxins as well, according to the
Professional Landcare Network (PLANET) the nation's largest lawn, landscape, and interiorscape association.
THERE ARE SEVERAL KITS AVAILABLE TO CHECK YOUR HOME FOR POLLUTANTS. GREENNEST HAS AN ASSORTMENT FOR AIRBORNE, SURFACE & WATER TESTING, AS WELL AS A HOME DETOX GREEN TOOLBOX.