VALENTINE'S DAY IS THE MOST ROMANTIC DAY OF THE YEAR. IT ADDS A BIT OF BRIGHTNESS AND CHEER TO THE MONTH OF FEBRUARY WHICH, DEPENDING UPON WHERE YOU LIVE, CAN BE COLD AND DREARY. WE NOT ONLY GIVE VALENTINE GIFTS TO OUR SWEETHEARTS, BUT ALSO CHILDREN, PARENTS, AND PETS.
WHEN I WAS IN ELEMENTARY SCHOOL IN THE '60'S, IT WAS CUSTOMARY TO EXCHANGE VALENTINE CARDS WITH OUR CLASSMATES. THE TEACHER OR NUN (I ATTENDED CATHOLIC SCHOOL) WOULD TAKE A SMALL CARDBOARD BOX AND MAKE IT INTO A MAILBOX. THE CLASS WOULD THEN DECORATE IT WITH PINK OR RED CREPE PAPER AND VALENTINE STICKERS.
MY MOM WOULD PURCHASE AN ASSORTMENT OF CARDS, SUCH AS THE ONE BELOW. SOME HAD GLITTER, SOME HAD RED VELVET. I WOULD THEN PROCEED TO WRITE ONE TO EACH CLASSMATE.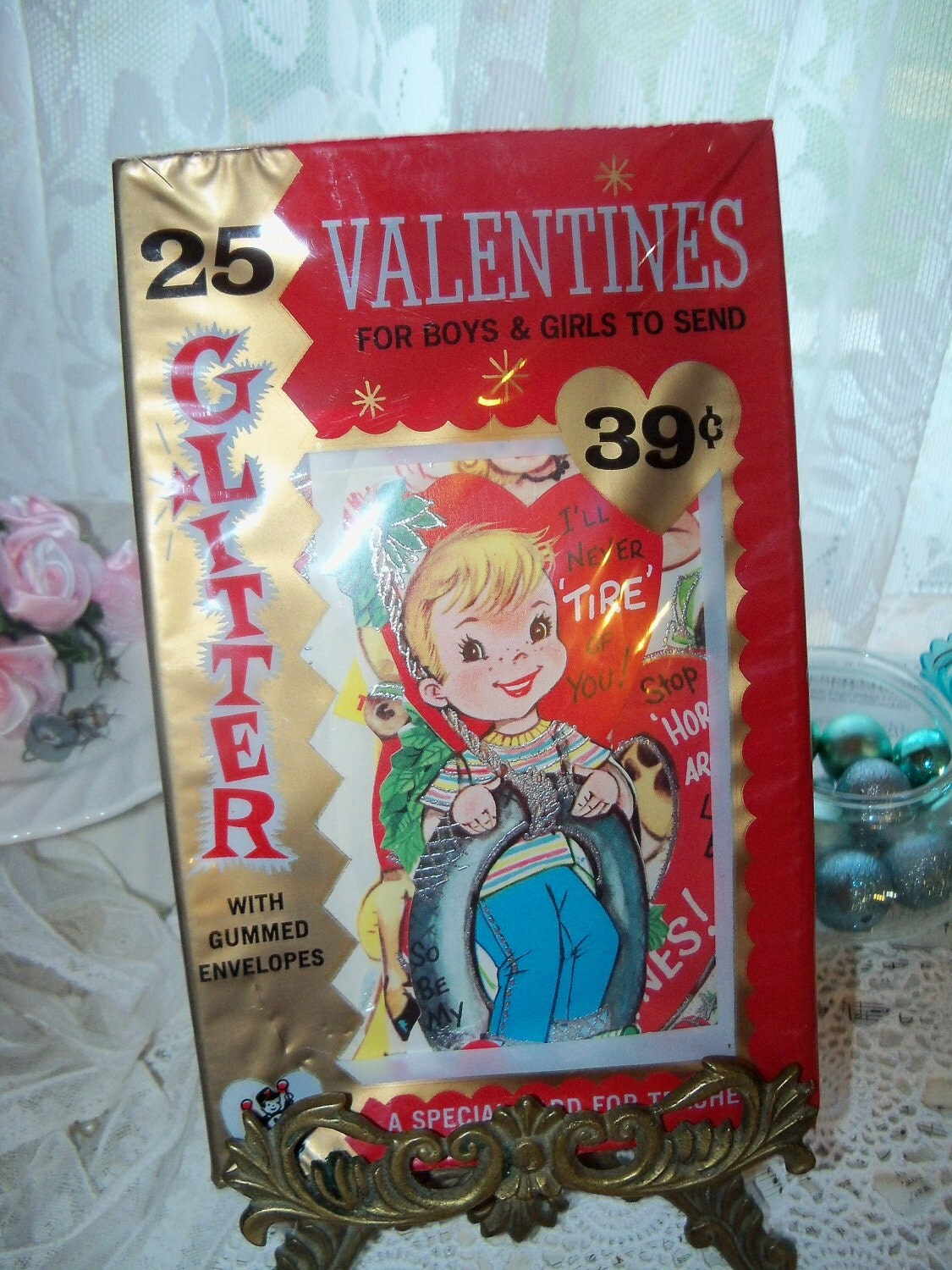 AFTER HANDING OUT THE CARDS FROM THE MAILBOX, WE'D HAVE A LITTLE PARTY & EAT HOME-MADE CUPCAKES, BAKED BY ONE OF THE MOMS, AND USUALLY GET LITTLE PARTY BAGS FILLED WITH SWEETHEARTS,
CHOCOLATE, AND RED HOTS.
THEY WERE FUN TIMES AND FONDLY REMEMBERED. ENOUGH OF MY "TRIP" DOWN MEMORY LANE AND BACK TO THE PRESENT WITH SOME IDEAS FOR 02/14/13.
SINCE IT IS CUSTOMARY TO SEND FLOWERS TO A LOVED ONE ON VALENTINE'S DAY (THE RECIPIENT NEED NOT ONLY BE A FEMALE - MANY WOMEN SEND THEIR BEAUS FLOWERS, TOO),
ORGANIC BOUQUET NOT ONLY HAS BEAUTIFUL ARRANGEMENTS, BUT ALSO INCLUDES ECO-ELEGANT GIFTS, ORGANIC CHOCOLATES AND MORE.
ORGANIC BOUQUET'S FLOWERS ARE GROWN IN AN ENVIRONMENTALLY SAFE MANNER AND ALSO PROVIDE OUTSTANDING RESOURCES FOR FARMERS AND ARTISANS. THEY ARE PARTNERS WITH SELECT FLOWER FARMS IN CALIFORNIA, ECUADOR AND COLUMBIA. THEIR PRODUCTS ARE CERTIFIED ECO-FRIENDLY. SOME ALSO PROVIDE FOR ENVIRONMENTAL BENEFITS THROUGH THEIR PARTICIPATION IN CARBON OFFSET PROGRAMS.
HERE ARE SOME OF THEIR GIFT IDEAS FOR VALENTINE'S DAY:
Organic Bouquet Steal a Kiss
Organic Bouquet Crown Majesty
Organic Bouquet Italian Love
Sugar Sugar Valentine Cookie Delights
REMEMBER TO PLACE YOUR ORDER EARLY FOR GUARANTEED DELIVERY ON VALENTINE'S DAY.