ONCE DECEMBER COMES TO AN END AND THE HOLIDAY DECORATIONS ARE PUT AWAY, THE COLD DAYS OF JANUARY, WHICH AT TIMES CAN BE DARK AND DREARY, TEND TO LOWER OUR SPIRITS. JANUARY, HOWEVER, IS A GREAT MONTH TO SAVE MONEY WITH SALES AVAILABLE THROUGHOUT STORES AND ONLINE. I BELIEVE THE PURPOSE OF "JANUARY WHITE SALES" IS TO LIFT OUR SPIRITS AND MAKE THE SCENERY A LITTLE LESS DRAB!
THIS TRADITION WAS ACTUALLY ESTABLISHED IN 1878 BY JOHN WANAMAKER OF THE PHILADELPHIA DEPARTMENT STORE FAME. HE REDUCED THE PRICES ON ALL THE WHITE LINENS IN HIS STORE. BUT DURING THE 1950'S, THE TRADITION INCLUDED COLORED SHEETS AND PRINTS.
JANUARY SALES ARE ALSO A GOOD TIME TO BUY WINTER CLOTHING THAT HAS BEEN REDUCED, AND SPECIFIC HEALTH, FOOD AND BEAUTY PRODUCTS. AT ABE'S MARKET, EFF. 1/16/13 - 1/17/13, SAVE MONEY ON HUNDREDS OF THEIR NATURAL PRODUCTS THAT ARE ON SALE, A FEW OF WHICH ARE:
3-PACK ORGANIC COTTON NO-SHOW
NATURE'S RITE SINUS RELIEF
VEGGIE LIFE HAPPY HIPS
AT HESSNATUR, YOU CAN SAVE UP TO 50% OFF, WITH FREE SHIPPING.
VIRGIN WOOL SCARF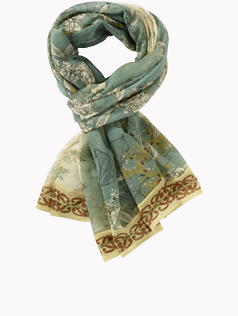 VIRGIN WOOL KNIT HAT ORGANIC COTTON SWEATSHIRT THESE ARE A SAMPLING OF THE ITEMS ON SALE AT HESSNATUR. SO SHOP TODAY FOR THESE AND SEVERAL MORE SALE ITEMS, AND GET OUT OF THE WINTER DOLDRUMS!